---
---
@Pattern(name="Template Method", scope=Class, purpose=Behavioural, participants={"AbstractClass","ConcreteClass"})
Package dk.rode.thesis.templatemethod
Implementations and examples of the Template Method design pattern [Gamma95, p.325].

See:
Description
Class Summary
FileSequence
A file sequence delivers byte arrays as sequence values, where each array corresponds to the contents of the current file or directory in a given directory.
Main
Template Method tests.
NegativeSequence
A negative sequence represents a perhaps bounded integer value that is decreased with each call to next(), starting at minus one.
SequenceTemplate<K,E>
A sequence template forms a template for sequences requiring several steps to construct, deliver, and dispose sequence values.
ZipSequence
A zip sequence delivers input streams as sequence values, where each stream correspond to the current zip file entry.
Exception Summary
SequenceValueException
A sequence value exception is thrown by a sequence template in case of value related errors, such as initialisation error, a next value cannot be delivered, or if the sequence is closed.
Package dk.rode.thesis.templatemethod Description
Implementations and examples of the Template Method design pattern [Gamma95, p.325].
Intent:
Define the skeleton of an algorithm in an operation, deferring some steps to sub—classes. Template Method lets sub—classes redefine certain steps of an algorithm without changing the algorithm's structure.
Here, the AbstractClass participant is represented by the SequenceTemplate class. It allows the creation of sequence values to be considered as a multi-step process like open-value, get-value, and close-value.

The ConcreteClass participant is represented by the actual sub-classes of the abstract class participant, namely NegativeSequence, FileSequence, and ZipSequence.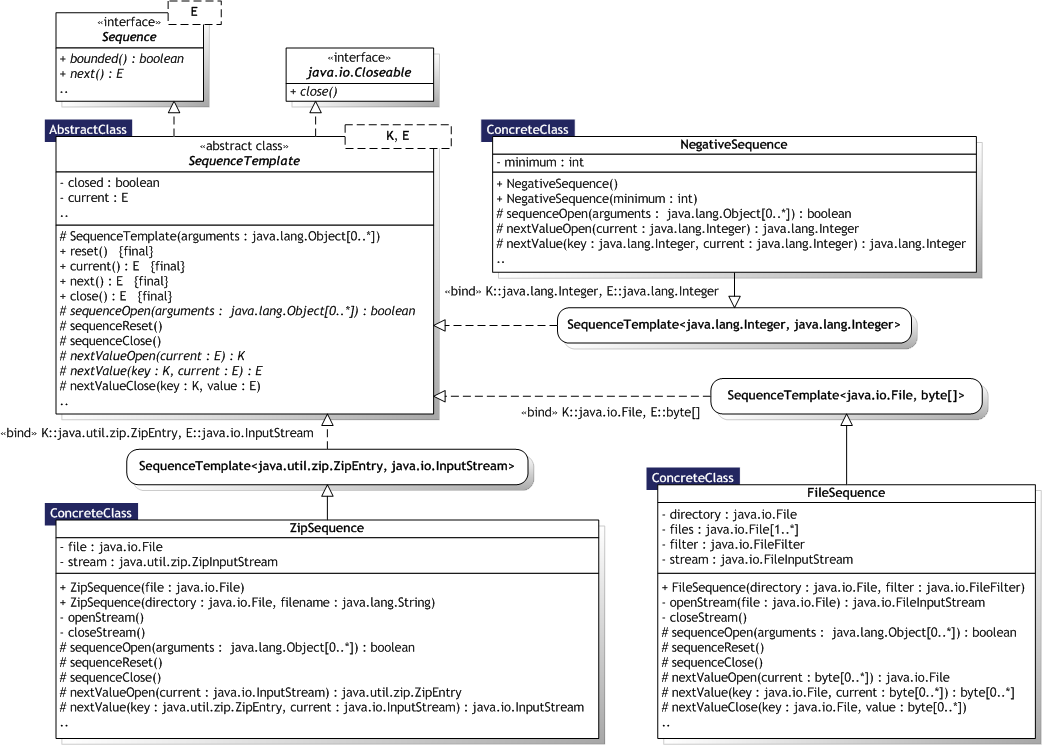 Implementation notes:
Java does not support functional multiple inheritance. Hence, any concrete class can at most inherit functionality from one abstract class. An alternative is to define the required template methods in a single interface. The abstract and concrete classes can implement this interface, but the actual implementation can be a component which is used through composition in the concrete class. This approach can also be combined with inheritance.
Author:

Gunni Rode / rode.dk
---
---
Feel free to use and/or modify the Java 6 source code developed for this thesis AT YOUR OWN RISK, but note that the source code comes WITHOUT ANY — and I do mean WITHOUT ANY — form of warranty WHAT SO EVER!

The original thesis and source code are available at rode.dk/thesis.